Thanks loads. My boyfriend is taking me to the revolving restaurant when I reach 60kg
That has been the plan since I was in the high 70s so that's something to look forward to. I have decided on a tattoo now, I still wouldn't mind getting the chinese symbol some other time, however I know I've found the one I want. I think you just know it when you see it. It is a puzzle piece which to me represents life in a number of ways. First of all, life is a puzzle and we continue getting new pieces of the puzzle and putting them together to create life, although we never see the final picture. It represents the idea that things happen for a reason.. no matter what choices we make, right or wrong, and however we try to re arrange the pieces in our puzzle, our lives are mapped out and created for us. Also to me personally, it represents the fact that there are many aspects of my personality and stages of my life that fit together like a puzzle to make me who i am... Inside the puzzle piece are stars which represents reaching for your goals and the determination to get to them. I think it is a perfect representation of myself and what I am trying to do with my life, by reaching my goals and not giving up. What do you guys all think? Im getting it on my left shoulder blade.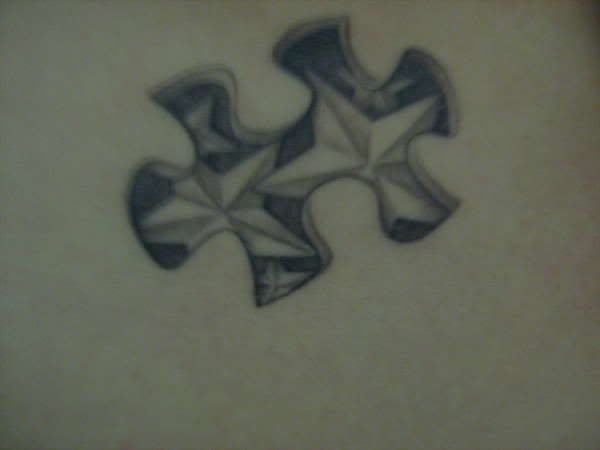 I also want to get foot prints on my hip. It is significant because I love the foot prints poem. Not necessarily in a religious way but I see it as a representation of my family being there to carry me in my hardest times. So that will just be a set of 3 foot prints.