i might start off with why i lost weight last time i was here.. initially, i lost weight for my grandads 70th birthday party, which was in october 2009, and to surprise everybody, which it did, because i had lost 15kgs by then (90kg down to 75kg), and it was also for my wedding, which was in october 2010 in las vegas, but i lost steam after my grandads 70th. by the time my wedding came around, i had put on around 5kg which wasnt too bad (for a year!!!) and i think i looked pretty good in my wedding photos, but now i'm starting to see the difference between 75kg and 82kg.. i can't see my collarbone anymore!
so i'm back and ready to fight the fat again! i'm hoping to get down to 65kg by october this year, because we're going back to las vegas for our wedding anniversary, and that means maybe i wont be classed as 'plus size' when i go to buy clothes over there!
i'll be weighing in every friday morning, watching what i eat, starting off with 40 min walks every day, then going back up to 1 hr 15 min walks (which is what i was doing before), and am hoping i can meet a few new people on here to keep me motivated!
thanks for reading
wish me luck!
My lowest - 75kg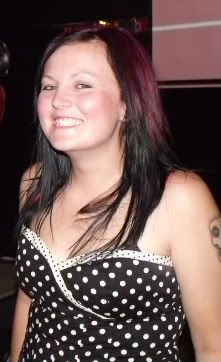 My Wedding - 80kgish