Well I decided I wanted to start a new journal, since that one was more about stress and since it a new year I wanted to start a brand new one. I wanted to start this year and let this year be the best year of my life. I have decided on starting the year and getting healthy. That including quit smoking and lose my weight for good.
Short intro about me: My name is Rochelle, I'm 28yrs old started my weightloss journey at 123kg. I'm 5ft 9 and that make me overweight. I hate being this fat and sometimes I think my hubby think I'm disgusting but he keep trying to tell me I'm beautiful.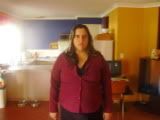 I'm going to start learning to love the measuring tape and measure every week or so. I just recently joined a gym and only went once but planning to go everyday except on weekends. I'm planning to go back to Weight Watchers since I tried to do Calorie Counting but couldn't stick to it.