Time to start a new progress thread I think, and this seems the ideal place to put it!
Quick recap for those who don't know me:
Am 23 (actually, 24 in two weeks!), have been overweight my entire life. Got up to a maximum weight of approximately 140kg, looked somewhat like this-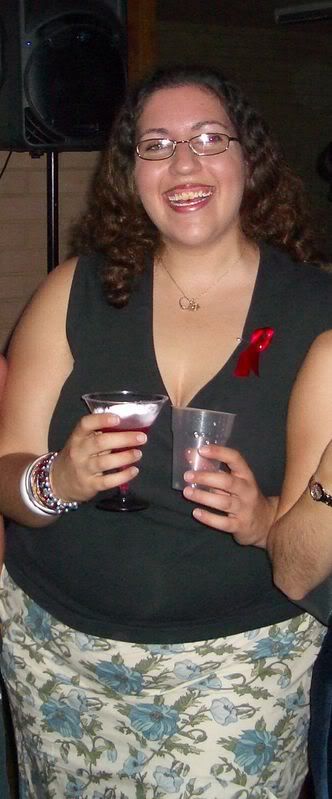 Lost around 30kg to hover around 110kg, and I maintained this weight for a couple of years, thereabouts. At my lowest, I looked like this-
(and better pic of face)
I've now been "relaxing" on the weight loss thing for a little while... I've been super busy with a new boyfriend, work and finally finishing my medical degree (yep, November 5 is my last exam, and all things going well, I'll begin working as a doctor in a Perth hospital in January). My jeans are getting tight again... and I know it's time to stop relaxing and start heading for goal again. I'm not sure exactly what I weigh at the moment (I always have this problem with accurate scales!) but it's somewhere in the region of 115kg. I think. Must check.
Ahh! It's 117kg, naked, in the morning, after breakfast, with wet hair. That's not so bad, right? I know I'm not back at my biggest level, but I'm worried about the upward trend.. and I want to finally get into double figures and STAY THERE!
I'm going to actually show this to my boyfriend this weekend. That's pretty scary for me. I know he loves me no matter what, and he thinks I'm beautiful.. but what will he say when he realises that his girlfriend is massively obese at well over 100kg? I'm 99.5% sure he will be completely supportive... make that 99.999999999999999999999999% sure. I'll post later and tell you all what he said.
So, this is it. Forget the past, I'm starting anew. Right now. I'm aiming for 0.5kg - 1kg per week, with no half-assed efforts. No excuses - I'm massively busy, but I'll be busy my whole life. I need to learn to manage my time. If I can make 10 minutes to check my e-mail and my facebook daily, I can make 10 minutes to record my intake in CalorieKing. I promise to THINK before I eat, and not just mindlessly snack because I'm bored, or because it's there. I promise to try and get some exercise in as much as possible - even if it's just a 20 minute walk. I promise to reach my goal of under 100kg, and no matter how many times I fall off the wagon, I promise to jump back on.
I want to post some "official" before photos of me right now, but I appear to have misplaced my camera. Coming soon!
Wish me luck!